Pemanfaatan Limbah Kotoran Ayam Broiller di Aceh Jaya
Keywords:
waste, socialization, Aceh Jaya, broiler chicken, community service
Abstract
Recently, the demand for animal meat, namely chicken, has been increasing among the people of Aceh in particular and Indonesia in general. Fulfillment of the need for meat also results in side effects that occur when the fattening process occurs. With the high amount of chicken meat production, linearly the waste from animals is also increasing and will cause health effects to the community if not handled properly. Things that appear in general in chicken farming are odors caused by NH3, H2S gas, and other elements. Then usually there will be more flies, and this will disturb the environment. The Independent Service Team from Syiah Kuala University is trying to find a solution to this problem. Then, the socialization activity to the Aceh Jaya farmer group was carried out on 27 June 2021 and also conducted to establish cooperation in the form of providing information on how to handle the chicken waste. There are several activities carried out by the socialization team from USK, namely forming a network, providing knowledge about healthy industrial ecology, socializing the waste process, and demos of the activity process so that it can be useful for members of the breeder. The results obtained from this activity are the establishment of network relationships, sharing of industrial ecology knowledge, quality organic fertilizer products, providing a greening effect on the environment. It is hoped that this collaboration will not stop here and that at other times we will continue to carry out socialization with different activities in this Aceh Jaya farmer group.
Downloads
Download data is not yet available.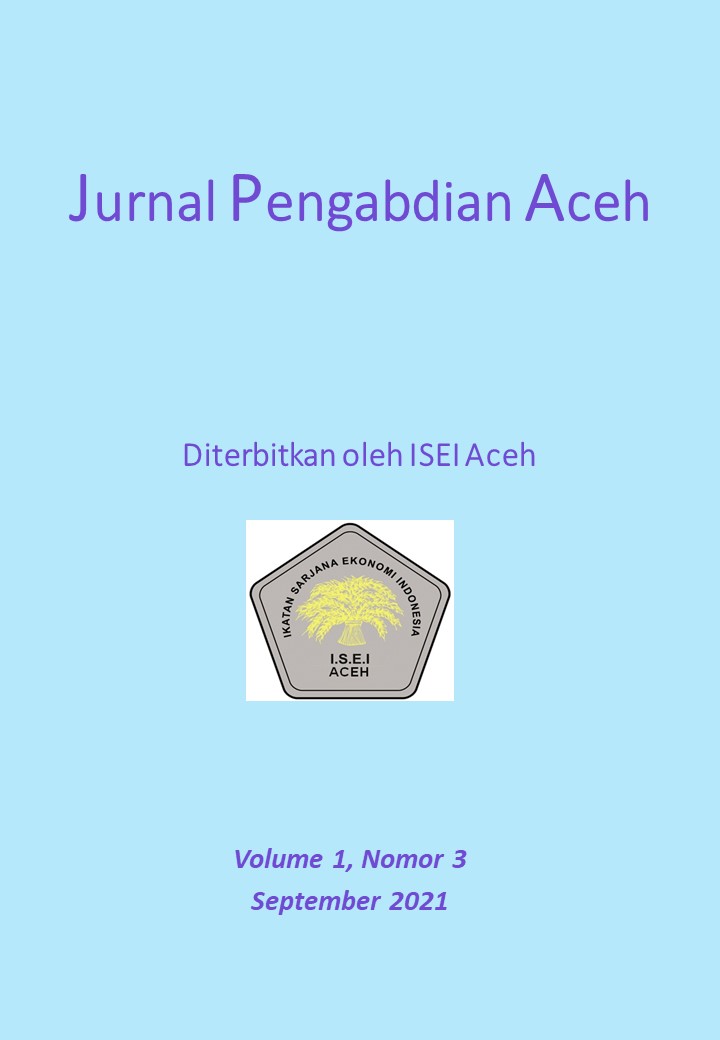 Downloads